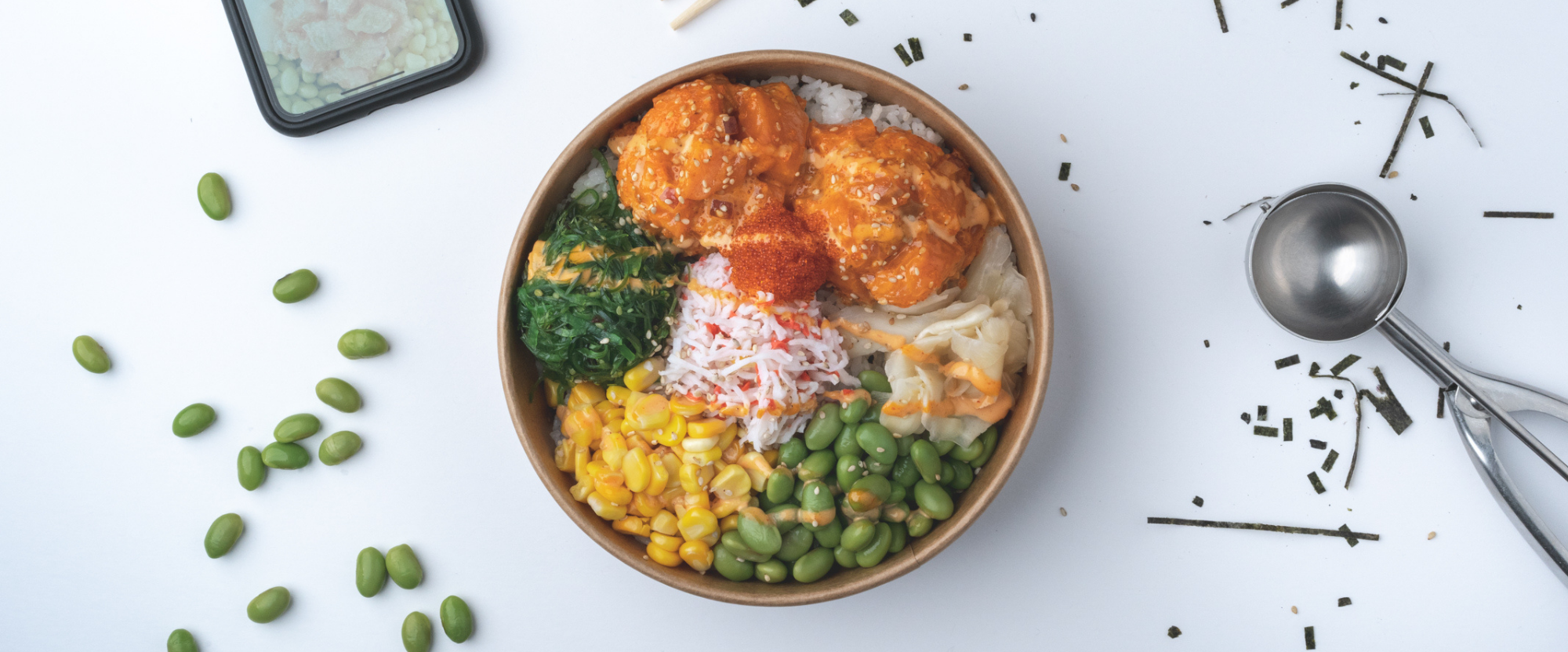 5 Tips to Fuel your Fitness Goals with Poke
What is Poke?
Poke has become a popular dish enjoyed by many for its simple yet delicious ingredients. Poke bowls are Hawaiian style marinated raw fish served with customizable healthy toppings like edamame and seaweed salad. Since it's easy to modify based on dietary preferences, many count on this as an easy grab-and-go dish that will appease any needs.
Why Poke?
Poke is a healthy dish, containing large amounts of protein, healthy fats and balanced carbs. This makes it a perfect go-to dish to fuel your fitness goals. The key is knowing how to order, what to order and what to modify to keep it healthy. The range of sauces and add-ons can easily take away from the balance, which makes it important to understand your needs and goals.
To help you navigate these menus, we have compiled 5 tips to help you order poke according to your goals.
1) Don't skip the protein:
Did you know that Tuna is essentially purely protein? As one of the best, freshest sources of protein we recommend making this a staple in your order. For every 3oz of Tuna you get a whopping 25g of protein! Salmon is also a great source of protein, for 3oz you get 17g of protein. This protein choice is well known for its healthy fats – this is where it gets important to know what your goals are.
2) Understand your sauces:
If you've been tracking your meals and food for any amount of time, you understand the value of the difference sauces and add-ons can make for a meal. These can sometimes make or break the health value of your food, so choose wisely! With Poke, there are a few standard sauces you will see:
Shoyu: This is a Japanese-style soy sauce made with a mix of soy and wheat. It is typically salty, thin, and lighter in color than normal soy sauce.
Ponzu: Another Japanese sauce made from rice wine, rice vinegar, citrus and sometimes shoyu. Typically a thin sauce with umami flavor.
Spicy Mayo: A delicious, yet fat-filled sauce as it is typically a blend of Siracha hot sauce, sesame oil and mayonnaise. This sauce adds a punch of flavour to any bowl with its creamy yet spicy flavours.
3) Customize your Base:
Poke is typically made to order with your menu choices, while there are some standard bowls you are also able to either build your own or modify as required. Typically the base is a bed of sushi rice, with the option to have salad greens or a mix of both. If you're watching your carb intake, this is where you would want to consider avoiding the rice all together or going 50/50 with a veggie base. Keep in mind your portion sizes and ask to keep the rice to a small serving. Alternatively, if you are bulking or looking to replenish after a workout the full serving of rice will be perfect.
4) Choose Your Toppings:
Toppings are usually comprised of a variety of veggies, making it easy (and healthy!) to load up on them: Aim to get as great of a variety of greens and veggies as you build your bowl If you are watching your caloric or fat intake, be mindful with the fat dense veggies and options such as avocado or extra crab and mayo Any toppings that have additional sauces added in (seaweed salad, crab salad) will add extra to your bowl, again be mindful of these choices In general, for your toppings stick to as many greens and veggies as you can!
5) Last but not least, understand what YOUR body needs:
Every individual comes with a different set of goals and needs. These need to be taken into account with our food decisions. For the average individual, poke is a well-balanced healthy meal. Be mindful of the sauces and extras you get, but enjoy your food!
Base – Salad, Quinoa, or mixed
Sauce – Shoyu, Spicy Mayo, Ponzu, Sesame Oil
Poke – Ahi Tuna or Salmon
Toppings – Avocado, Cucumber, Edamame, Wakame Seaweed Salad, Sesame Seeds
If you have specific goals, or more questions about what you should be eating get your goals assessed by a professional trainer. Book your assessment here.