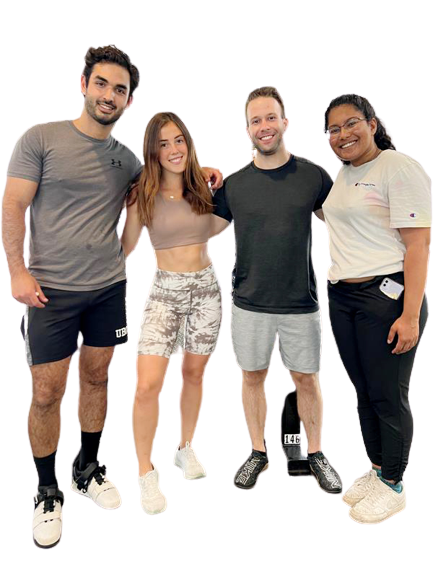 Fill out this form to get your FREE 1-Day Pass:
Local ID or proof of local residence is required. Please familiarize yourself with our current covid protocols and mask policies
With this offer you'll get:
• Complimentary (1) one day Workout Pass
• Extra 70% OFF enrollment
• 10-day satisfaction guarantee
Experience for yourself everything Gold's Gym UMP has to offer:
12,00+ Sq Ft Facility

Full Cardio & Strength Area

Circuit Training Annex

Power Lifting Equipment

Olympic Lifting Platforms

Private Personal Training
See what our members are saying:
My experience at Gold's Gym at ubc has been nothing but amazing! Working with personal trainer Ariana has been the best decision I've made. Ariana is extremely knowledgeable in terms of not only training but also nutrition, and she really tailors your sessions according to your fitness goals. One hour flies by when you're training with her because she's super personable but also so efficient with the time! I've already learned so much from the four sessions we've had so far and I've never felt so motivated to become healthier and stronger. I would highly recommend Gold's gym, especially personal training with Ariana!
Bryan Wong has been more than a 5 star coach and personal trainer. His flexibility, knowledge, professionalism, and care are all 5 stars. I was unsure about using a PT but I've gotten more than what I asked for and am very happy.
Golds gym university market place is a wonderful gym with an amazing gym environment plus great staff! Ariana has been nothing but amazing throughout my fitness journey and without her I don't think I would be where I am at today! Her support and knowledge has helped me tremendously. The tips I have learned from Ariana has made a huge difference in my training and I can definitely see a big growth in my progress! if you plan on joining this gym and are looking for a personal trainer I would 100% recommend Ariana! 🙂
I've never felt so welcomed and comfortable at a gym before! Everyone there is so kind. I have to give a special shout-out to someone who has been exceptionally welcoming. Ariana is one of the personal trainers there and she has helped me tremendously with my fitness journey. She is very knowledgeable and easy to connect with. Highly recommend her to anyone who is looking to get into working out for the first time!
My experience here was super good and the atmosphere at the gym was fantastic. Ariana a PT there is great and I had such an amazing experience with her.
This is a very warm and welcoming gym. Most of the clients are university students or people living in the neighborhood. Both the staffs and clients are so friendly, making the entire environment comfortable. Talking about PT, I have been trained under Ariana's instructions for the past two months, and I absolutely love how professional and inspiring she is! I wasn't new to gym and I was trained under two different PTs before. Comparing my past and recent experiences, I think Ariana is the type of PT that truly spends time planning out systematic schedules to fulfill clients' needs rather than throwing random stuffs from days to days. Since day 1 of the training, she has already awaken my muscles and strength for compound exercises which were scheduled weeks later. She is able to provide easy-to-follow instructions and detail suggestions for further improvement. She definitely pushes me to challenge myself more. I couldn't be able to imagine how much I have accomplished within such a short period of time. I used to go to gym just for the sake of "health" and I struggled mentally every single time. However, I really enjoyed my times working out in the gym this two months, and even looking forwards to attending specific "interesting" sessions haha. Overall, if you are looking for a PT who is both professional and fun to talk with, I would highly recommend Ariana to you!
Monorme Chaudhury
2021-07-23
I have been training with Ariana for almost a month now. She has been very receptive to my concerns with an underlying health issue that poses a challenge to my weight management queries. She is a very dedicated personal trainer who puts immense thought into her workouts and has always been willing to give me advice. I have also seen positive results over time and I owe it to her for that. I appreciate Ariana as a personal coach and friend, as well as her consistent guidance and motivation. If you'd like some help and motivation along your own fitness journey, I'd definitely recommend Ariana!
Golds is my favourite gym, especially their personal trainers … Ariana is the best personal trainer I have ever had, honestly! She is so professional, skilled, friendly, and never made me feel silly for being weak or new. Because of her, my confidence is boosted, I look and feel so much healthier, and I enjoy gymming.
Heather Campbell
2021-07-23
I love training at Gold's University Market Place! The facilities are always clean and the staff here are always welcoming. Training with Ariana as my PT has played a pivotal role in achieving my own personal fitness goals. Ariana tailors my program to my needs and is constantly challenging me, training with her has certainly developed my confidence in working out at the gym. Ariana is awesome, highly recommend!
JOIN TODAY