Looking for a way to spice up your protein intake?
Do you have an insatiable chocolate craving but don't want to ruin your diet?
These two recipes will satisfy both needs!
Enjoy these treats throughout the day or surprise your family and friends with a low sugar, low carb, flavorful dessert option at your next gathering!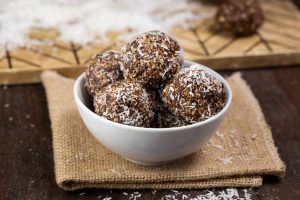 INGREDIENTS:
1/4 Cup Rolled Oats

1 Scoop Chocolate Protein Powder

1 TBSP Coconut Oil

1 tsp Honey

2 TBSP Unsweetened Coconut Flakes

1 TBSP Cocoa Powder
DIRECTIONS:
Place all ingredients in a bowl and mix together

Hand-mold about 10 balls out of the mixture

Refrigerate for an hour and enjoy!
MACROS (Whole Recipe):
404 Calories

26g Carbs

22g Fat

28g Protein