Embarking on a fitness journey can be a daunting (and exciting) task. You're not just changing your routine; you're changing your lifestyle. A personal trainer is your ticket to skyrocket your chances of succeeding in this journey and sticking with it for life. 
If you're in Port Coquitlam, look no further than Gold's Gym. We proudly announce that our personal trainers are not just good; they're the best in town. Here's why.
The Gold's Gym Experience
At Gold's Gym, our personal trainers aren't just fitness professionals; they're your personal fitness allies. 
Expertise Built on Passion
One word that describes our personal trainers best: passion. They are certified fitness experts, armed with a wealth of experience and a love for their work. They're always on top of the latest fitness trends, ensuring you're not just working out, but working out smart. It's why we picked them. 
Tailored Just for You
Fitness isn't a one-size-fits-all journey, and we get that. Our trainers craft workout plans as unique as you are, aligning with your goals and fitness level. As you evolve, so do your workouts, keeping you challenged and engaged.
Your Personal Cheer Squad
Our trainers are here to fuel your motivation. They're your personal cheer squad, celebrating your victories, helping you tackle challenges head-on, and keeping your eyes on the prize – your goals.
Beyond the Workout
Our trainers go beyond the workout, offering guidance on all aspects of fitness, from nutrition to recovery. They're your go-to fitness guides, ready to answer your questions and equip you with the knowledge to succeed.
State-of-the-Art Facilities
Training with us means you get more than just a workout; you get a fitness experience. Our modern facilities, including top-tier gym equipment and relaxing amenities like our steam room and infrared sauna, are your playground.
Our Process: Your Personalized Roadmap to Fitness Success
At Gold's Gym, we believe every fitness journey is unique, so we've crafted a process that puts you at the center. 
Here's how we guide you on your path to fitness success:
Taking The First Step to Greatness
Every epic journey starts with a single step. For us, that step is a complimentary Fitness Assessment. This isn't just a routine check; it's a deep dive into your unique fitness profile. 
We explore your strengths, identify areas you want to work on, and set inspiring goals. This assessment lays the foundation for your personalized fitness journey.
Crafting Your Path to Success
Once we've discovered your starting point, it's time to chart the course ahead. We work with you to create a personalized fitness plan that's tailored to your goals and preferences. 
This isn't a generic plan; it's your personal fitness blueprint, designed to maximize your progress at a pace that's right for you, ensuring continuous improvement.
Guiding You Through the Journey
With your fitness blueprint in hand, our certified trainers guide you through your fitness journey step by step. 
From group exercise classes to one-on-one personal training, we show you the ropes, introduce you to new challenges, and ensure you get the most out of your workouts.
Walking With You, Every Step of the Way
Our commitment to you extends beyond your workout sessions. We're here to support you, answer your questions, and celebrate your victories. 
At Gold's Gym, we're not just your gym; we're your fitness family.
Why Personal Trainers Are So Worth It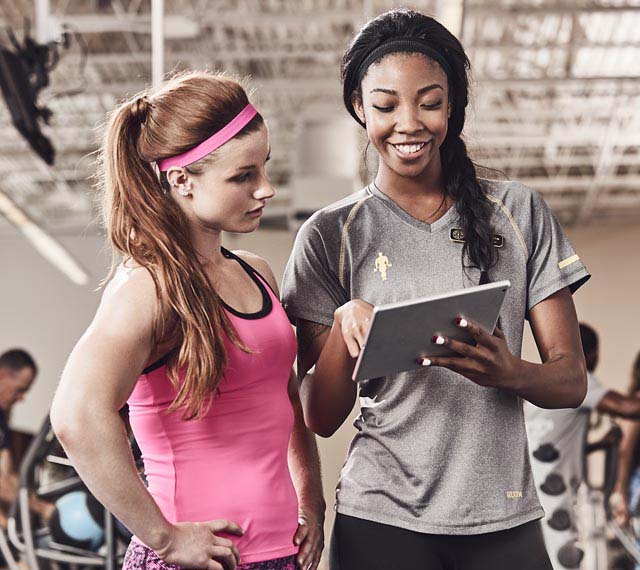 If you've ever wondered whether investing in a personal trainer is worth it, let's clear the air: it absolutely is. Here's why:
They're Your Personal Fitness GPS
Navigating the world of fitness can be overwhelming. A personal trainer is like your personal fitness GPS, guiding you through workouts, nutrition advice, and fitness trends (Which can be overwhelming for newcomers to this lifestyle). 
They help you avoid detours and keep you on the fastest route to your fitness destination.
They Speak Your Fitness Language
Every body is unique, and what works for one person might not work for another. 
Personal trainers understand this. They take the time to learn your fitness language – your strengths, weaknesses, goals, and preferences – and tailor your workouts accordingly.
They're Your Accountability Partners
We all have days when we lack the motivation to work out. On those days, a personal trainer is your accountability partner. They keep you committed, motivated, and on track. They're there to remind you of your goals and why they're worth the sweat.
They Make Fitness Fun
There are no two ways about it, workouts can sometimes feel like a chore. But with a personal trainer, fitness becomes fun. They mix up your workouts, introduce you to new exercises, and turn fitness into a game. With them, every workout is a new adventure.
Sign Up Now! Your Fitness Journey Awaits
Ready to power up your fitness journey? There's no better time than now. 
Gold's Gym is perfect for putting your fitness journey in high gear with our experienced personal trainers, state-of-the-art facilities, and a supportive fitness community.
So why wait? Sign up now and experience the Gold's Gym difference. Let our personal trainers guide, motivate, and help you achieve your fitness goals. 
Want to give our gym a spin first? Get comfortable with our free 1-day pass and discover why Gold's Gym is the best in Port Coquitlam, Vancouver.
Your fitness journey is unique, and at Gold's Gym, we're ready to walk with you every step of the way.
Have What it Takes to Become a Gold's Gym Personal Trainer?
Are you passionate about fitness? Do you love helping others achieve their goals? If so, becoming a personal trainer at Gold's Gym might be your perfect career path. 
As a personal trainer at Gold's Gym, you'll be part of a supportive and passionate fitness family. You'll have the opportunity to inspire and guide our members on their fitness journeys, and in turn, continue to grow and learn in your own fitness career. 
So why wait? Ignite your fitness career and make a difference in people's lives by becoming a personal trainer at Gold's Gym.